Welcome to the homepage of Bariloche Anglers.
We invite you to relax and enjoy the information provided and hope that in some small way this site will help you feel the life and culture of fly fishing in Patagonia. As outfitters we strive to provide our clients with a real Argentine experience through superior customer care and attention to every detail. This begins and ends with the finest and most experienced guides in Patagonia.
Since we began our fly fishing operation in 1996, Bariloche Anglers has always taken pride in doing what is right for its customers. We will customize a trip that meets, and in most cases, exceeds all expectations. Given our geographic region there are more rivers, lakes and spring creeks to explore than can be fished in a month's time.
Bariloche Anglers tends to anglers lodging in Bariloche, fishing different rivers and sections every day. Our guides will be eager to take you to these pristine waters.
Our trips are intended to provide clients with a comfortable, and safe fly fishing experience.
We are happy to help you find the hotel that best suits your needs.
Bariloche area fishing programs
If you are on business in Buenos Aires and have a week end off, take your partner trout fishing on a two hour flight south to Bariloche. Here you will find the comfort of good hotels or quieter nearby lodges.
A fishing day or two in Bariloche before or after a weeks fishing trip elsewhere in Patagonia will come in handy to relax and spend some time in this beautifull town and surrounding area.
Our guides: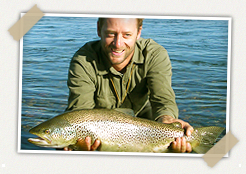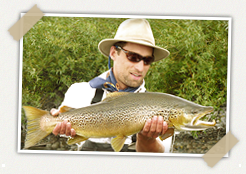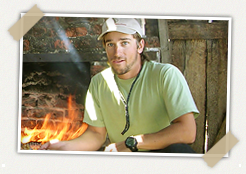 The guides at Bariloche Anglers are some of the best in all of Patagonia. All are natives of Argentina, have years of guiding experience on the rivers and lakes you will be fishing, and speak fluent English. Every guide listed below has been with BA for 10 or more years. This is a strong indication of the integrity of the Bariloche Anglers operation.
The most important aspect of any serious fishing trip is the guides that you will be spending each day with.
Fishing with the guides from Bariloche Anglers is always rewarding because each has a slightly different skill set that will give you the opportunity to experience and learn from. All the guides treat each other and their clients like friends and family.
Our fly fishing experience is built completely around our Argentine guides. Our guides are born and raised in Patagonia, with a minimum of 10 years of guiding on these waters, and the head guides over 15 years experience. All of the guides speak good English, and will insure the safest, and most enjoyable fly fishing trip in Argentina. They will happily introduce you to their culture, history, flora, fauna, and most of all… their trout!
We look forward to hearing from you, and hopefully providing you with the fly fishing trip of a lifetime.